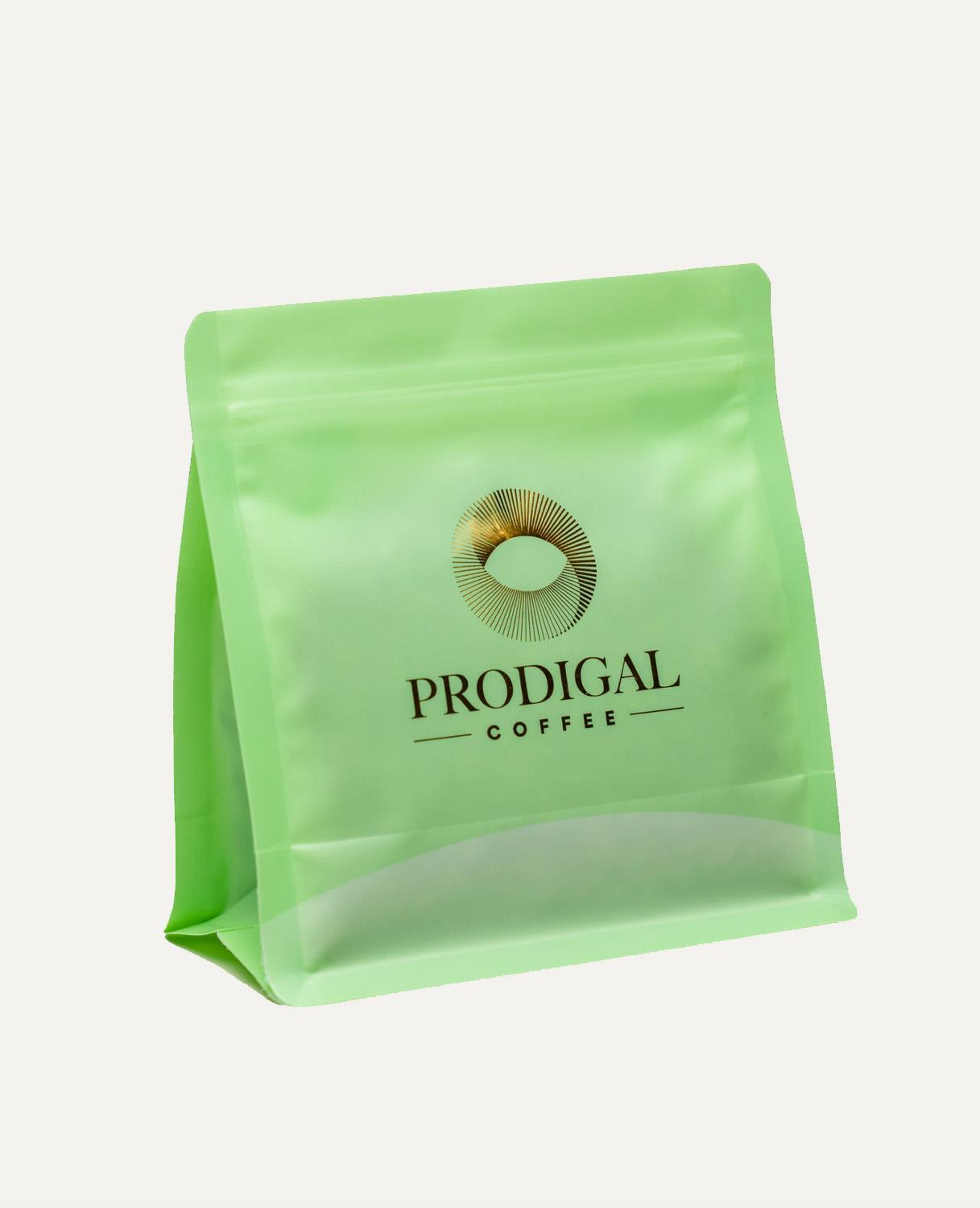 Prodigal - Finca Betel Gyrola Sudan Rume - Colombia
Prodigal - Finca Betel Gyrola Sudan Rume - Colombia
The bag is green, waiting on a new photo.

This is a guest coffee from Prodigal coffee, have a look under the description for more information.
1 October batch, they say the coffee tastes best 3-4 weeks after roasting, but we are already enjoying it.
Finca Betel has produced yet another beautiful coffee for us. Prodigal is thrilled to have this exclusive lot César Ledesma calls "gyrola", named for the local tanager bird. The flavors of guava, strawberry, and citrus are bold and striking.
This lot fermented anaerobically for 72 hours before solar drying for 36 hours. Then the coffee underwent mechanical drying until ideal moisture content was reached. Interestingly, this coffee requires 20% more cherry than other varieties to produce the same amount of green coffee. This Sudan Rume variety seed stock came from Diego Bermudez's farm Finca Paraiso in 2017. Now 500 of these trees flourish at Finca Betel.
Process: anaerobic natural
Region: Valle del Cauca, Colombia
Variety: sudan rume
Why do we have a guest coffee?

Over the years I have read every book by Scott Rao this is probably one of the first things you do when you start coffee roasting. Scott has influenced what we do, from his Master classes to the thoughtful answers he gives to every question. He will no doubt continue to influence us as we continue to strive to produce more enjoyable coffee.

So if you don't know already here is some more information about the prodigal team.

Scott Rao has been in the coffee business for 30 years as a cafe owner, roaster, consultant, and author. The Coffee Roaster's Companion and Coffee Roasting: Best Practices have influenced a generation of roasters and shaped the global roasting vocabulary and conversation. Thousands of roasters worldwide have attended Scott's seminars and worked with him as a private consultant. Scott's popular Instagram account @whereisscottrao offers expert-level tips and discussion about coffee brewing and roasting.
Mark Benedetto is a trained chef who gave up cooking and cafe management to move to a career in coffee roasting. After passing the Q-Grader exam, Mark started Last Stand Coffee in San Francisco in 2017, specializing in roasting for SF tech offices. Mark has assisted Scott in his roast consulting and numerous other projects, including sample roasting for Facsimile Coffee in 2020–2021.
Related Products